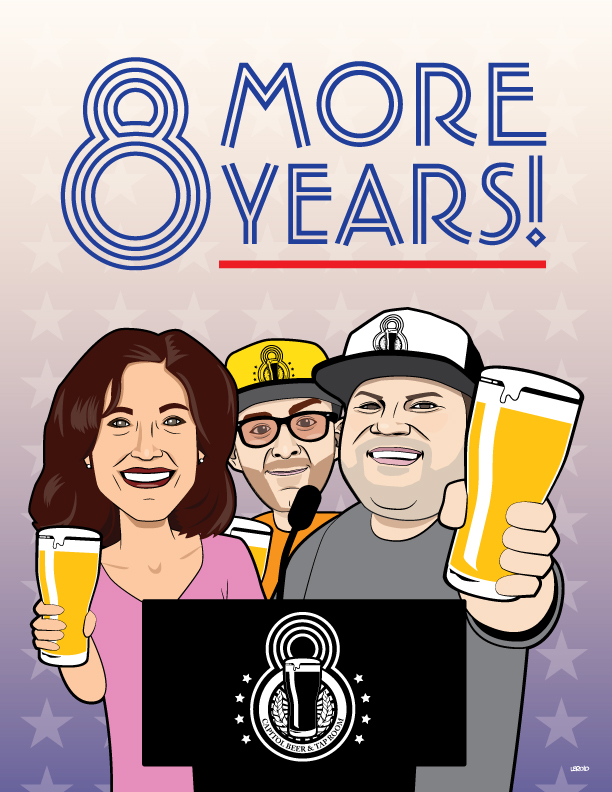 It's Anniversary time again! We're doing things a little different this year so check it out!
This will be a TICKETED private event held in 4 different sessions with LIMITED seating (spaced out to practice social distancing!). 
Sessions will be held starting at 11am with a 30min break in between to allow staff to clean and sanitize the assigned seating areas.
11am-1:30pm (SOLD OUT!)
2pm-4:30pm (SOLD OUT!)
5pm-7:30pm (SOLD OUT!)
8pm-Close (SOLD OUT!)
Tickets are $20 and get you the following:
Cap Tap 8th Anniversary Glass
Cap Tap 8th Anniversary Bandana 
Cap Tap 8th Anniversary Tote Bag
1 Full Pour of ANY Anniversary Beer! **
1 Meal provided by Capital Hop Shop (Veggie/Vegan options)
Assigned Patio Seating
Full Anniversary Beer List Coming Soon!
SLICE Sticky Flowers IPA **
Claimstake Patio Party Beer **
Urban Roots Barrel Aged Capitolium Golden Sour **
Flatland Anniversary Hazy DIPA TBA **
Godspeed Kurayami Mysterious Stout
Boneyard RPM IPA
Modern Times PDX Gravity Hammer Sour w/Strawberry/Raspberry/Cranberry
Yeast of Eden Neon Dreams Sour Saison w/Raspberry
FiftyFifty Neapolitan Eclipse BBA Imp Stout
Toppling Goliath Sun Reaper Hazy DIPA
Boneyard Backbone Espresso Stout
Modern Times Perpetual Radiance Hazy Pale Ale
Solid Ground Zwickel Rampart Lager
Monk's Cellar Batch 500 Belgian Pale *CASK*
Societe Good of The Public IPA
**MORE TBA & lineup is subject to change!**